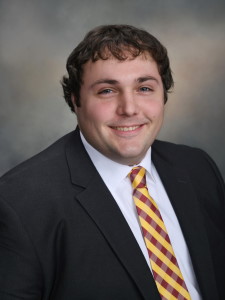 Expertise
3D Printing
Capstone Design
Industry 4.0
Innovation
Laser Scanning
Product Testing
Product/Process Design
Education
M.S., Industrial and Agricultural Technology, Iowa State University, 2016
B.S., Agricultural Systems Technology, Iowa State University, 2013
Experience
Jake conducted research at Iowa State University for nearly 7 years in material development and testing, product design and implementation, test method development, and test analytics. He held a variety of responsibilities including resource management, project oversight, data reporting, safety management, and industry client communication and reporting.

Most recently he served the Agricultural and Biosystems Engineering Department for over 2 years as a Teaching Laboratory Coordinator, managing ABE's advanced manufacturing lab spaces and supporting student capstone projects. Jake will provide support within Industry 4.0 and the deployment of advanced technology (Automation, CAD, 3D printing, 3D scanning) within Iowa manufacturers.
Serving CIRAS from 2019.