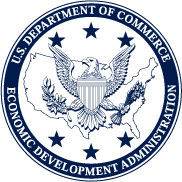 EDA University Center at Iowa State University
The Economic Development Administration
The Economic Development Administration (EDA) was established in 1965 under the Department of Commerce to create new jobs, help retain existing jobs, and stimulate industrial and commercial growth in economically distressed areas of the United States. The mission of EDA is to lead the federal economic development agenda by promoting innovation and competitiveness, preparing American regions for growth and success in the worldwide economy.
Iowa Association of Regional Councils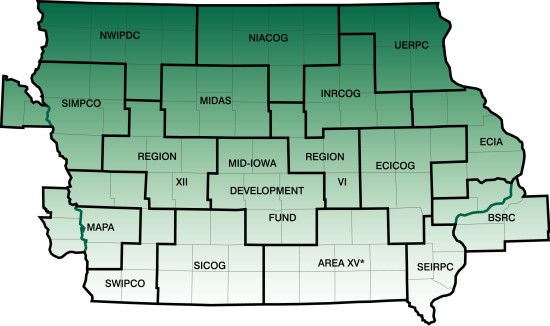 One mechanism the EDA uses to connect to local constituents is through sponsoring groups called Councils of Government (COGs). Iowa is divided into 16 regions, each of which has a COG. Councils are formed by counties, cities, and towns to serve local governments and citizens across the state of Iowa. Councils address issues facing local government on a cooperative basis and provide coordination of services delivery, planning, advocacy, technical assistance, and project development in areas such as community development, transportation, housing, land use, solid waste, and natural resources.
The University Center Program
In 1966, EDA began offering grants to institutions of higher education to improve the economies and economic development capacity of their service areas with emphasis on economically distressed communities. Economically distressed areas are defined as communities that experience substantial barriers that inhibit the growth of their local economies and limit their ability to compete effectively in regional, national, and global markets.
Iowa University Center
The Iowa EDA University Center has operated within the Center for Industrial Research and Service (CIRAS) since the program began at Iowa State in 1980. In 2013, CIRAS was awarded a technical assistance contract under the University Center program to develop and implement the Iowa Advanced Manufacturing Innovation Network (AMIN) program in the state.
This program applies research-based methods to create an idea incubator supporting technology commercialization and high-wage job growth for the advanced manufacturing industry cluster in Iowa. Specifically, the AMIN activities include: 1) Needs assessment for existing industry clusters; 2) Innovation summits to develop innovative solutions to industry needs; and, 3) Idea incubation to drive technology commercialization.
The focus of this center is regional commercialization, advancing high-growth entrepreneurship, and cultivating innovation.
Publications:
Plastics and Rubber Manufacturing (2013-14)

Machinery Manufacturing (2014-15)

Metals Fabrication Industry (2015-16)

Food & Beverage, Feed & Grain Manufacturing (2016-17)

Transportation Equipment Manufacturing (2017-18)

Economic Profile of Transportation Equipment Manufacturing in Iowa
2017 Iowa Industry Survey Report – Transportation Equipment Manufacturing
For more information, contact CIRAS Director Ron Cox.