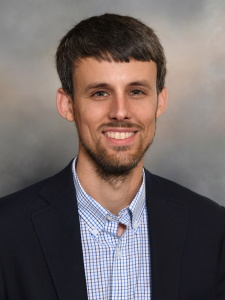 Education
Certified Automation Professional, 2016
M.S., Mechanical Engineering & Biorenewable Resources & Technology, Iowa State University, 2013
B.S., Mechanical Engineering, Dordt College, 2009
Experience
Andrew is a liaison between Iowa manufacturers and the RAPID institute, which strives to make chemical manufacturers more efficient & lean through the principles of process intensification. He seeks to connect Iowa manufacturers with RAPID and the other 13 Manufacturing USA institutes in order to keep Iowa competitive in areas such as chemical manufacturing, robotics, digital manufacturing, additive manufacturing, and other advanced manufacturing topics.

In addition to CIRAS, Andrew works as a senior automation engineer for the Bioeconomy Institute (BEI) at Iowa State University. Andrew is intimately familiar with industrial control systems, having designed, built, programmed, and maintained them for 8 years while at BEI. His holistic and modular approach to the design and operation of process control and data acquisition systems has helped cement BEI's position as a leader in the bioeconomy revolution. He continues to use his extensive experience in process control and data collection to assist Iowa manufacturers in automation related topics.
Serving CIRAS from 2017.