EDA University Center Program
The Economic Development Administration (EDA) was established in 1965 under the Department of Commerce to create new jobs, help retain existing jobs, and stimulate industrial and commercial growth in economically distressed areas of the United States. The mission of EDA is to lead the federal economic development agenda by promoting innovation and competitiveness, preparing American regions for growth and success in the worldwide economy.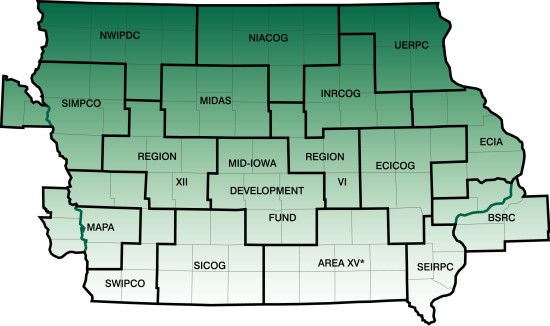 One mechanism the EDA uses to connect to local constituents is through sponsoring groups called Councils of Government (COGs). Iowa has 17 multi-county COGs, each charged with coordinating planning and programming in the region. Councils provide planning services and technical assistance; coordinate delivery of community development programs with local, state, and federal programs; and prepare regional comprehensive economic development strategies (CEDS).
In 1966, EDA began offering grants to institutions of higher education to improve the economies and economic development capacity of their service areas with emphasis on economically distressed communities. Economically distressed areas are defined as communities that experience substantial barriers that inhibit the growth of their local economies and limit their ability to compete effectively in regional, national, and global markets.
CIRAS has managed an EDA University Center at Iowa State University continuously since 1980. The current EDA award to CIRAS (2018-2023) focuses on the development and implementation of workforce strategies to communities within 45 miles of the nine metropolitan areas in Iowa.