The Iowa Lean Champion Award honors a leader who has made significant contributions to Lean practices and/or lead a Lean journey. He or she also must meet the following criteria set forth by the ILC Advisory Board:
Leadership – Recognized leader in Lean and continuous improvement
Sustainability – Ten years practicing in a leadership or change agent role
Impact – Demonstrated and quantifiable business improvements
Principle-Based – Demonstrated key Lean principles of respect and continuous improvement
Influential – A role model & mentor to others
Outreach – Leader in the community, as well as in business
2019 Lean Champion Award
Cory Reuter exhibited transformative leadership while serving as Director of Process Improvement, Analytics and Performance Excellence at Unity Point Health.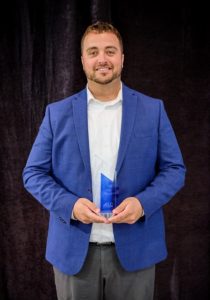 Cory is a leader beyond his area of responsibility. His constancy of purpose expanded the continuous improvement opportunities at Unity Point Health, and his work had impact organization-wide. It resulted in time and dollar savings across areas as diverse as coronary artery disease, diabetes, sepsis, falls reduction, and more, impacting both patient care and support for patient care.
Reuter is the eighth Lean Champion to be recognized by the ILC.
CLICK HERE to view our past award winners.
We are now accepting nominations for the 2020 Lean Champion Award. To nominate someone for this award complete this form by July 31, 2020. The award will be presented at the 2020 Annual Conference in West Des Moines.