We are thrilled to introduce an exciting new opportunity for ILC members that will positively impact the communities where you work and live! Introducing LEANing Together, a dynamic and engaging event organized by CIRAS and the Iowa Lean Consortium. This collaborative experience aims to showcase the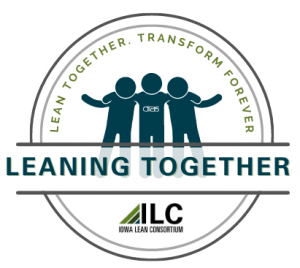 power of continuous improvement through friendly competition and hands-on learning while providing potential process solutions for a non-profit organization in Iowa.
The event will commence at 1:00 pm on October 25, featuring opening remarks by the ILC and the Food Bank of Iowa. Teams will then receive final instructions and be assigned their respective work areas. Over the course of approximately two hours, teams will work to develop potential solutions, with Food Bank staff available on-site to address any questions that may arise.
At 4:15 pm, teams will pitch their ideas to the Food Bank of Iowa. The Food Bank will consider the proposed solutions and select three potential solutions to test, designating one as the initial winner. The winning solution will be announced the following day at the main conference.
So, get your team together, or we will assign you to a team if you prefer. Team members do not need to be from the same organization. Together, you will collaborate to develop innovative potential solutions for our selected non-profit organization, the Food Bank of Iowa.  The cost of $20 per person covers supplies, snacks, drinks, and facility rental.
We invite you to join us for this high-energy event that celebrates lean principles, collaboration, and innovation while making a meaningful contribution to the greater Iowa community. LEANing Together promises to be an unforgettable experience that allows you to share your knowledge of process improvement and give back in a truly impactful way.
Have a quick question? It may be below. If it's not, contact us at iowalean@iastate.edu
FAQs for LEANING Together
What if I know I want to register a team, but don't know specific team member names yet? Can I still register now?

YES! You can use the link to register, and put TBD in for the team member names. You still have to know your team captain.

Do all my team members have to be from the same organization?

Nope! This is a great way to share problem-solving practices.

Is there a minimum number of team members to register as a team?

The minimum for a team is 2. Maximum is 8.

What if I don't have a team?

You can register as an individual and we will place you with a team!

I need sustenance to solve problems. Will there be snacks?