IOWA PARTNERS IN EFFICIENCY AWARD
The Iowa Partner's in Efficiency award is an annual award given by the ILC that acknowledges achievements of particular benefit to the citizens of Iowa and the private sector. It recognizes public sector employees and teams that significantly and measurably increase productivity, promote innovation, and improve the delivery of public services to save money for Iowa taxpayers and businesses.
Making our government – city, county, state – more efficient through the implementation of Lean impacts all of us positively. Since 2010, the Iowa Partners in Efficiency award has recognized the efforts of Iowa government entities to improve their operational efficiency. 2013 marked a move of this award sponsorship to the Iowa Lean Consortium from the Iowa Business Council.
PURPOSE:
To drive efficiency, productivity, cost avoidance, and waste elimination in government

To improve regulatory processes and performance targets

To elevate economic competitiveness

To foster better work environments and develop leaders/innovators

To instill a bias for action

To institutionalize Lean within government
CRITERIA:
Must be a significant process improvement with measurable results.

Examples of measurable improvements include: Reduce lead times, reduce cost, elimination of paper, cost avoidance, improve services at the same or lower cost, increase revenue, labor savings, etc.

Preference is to accomplish the improvement via a Lean Process Improvement event; however, other methods of improvement will be considered.

The improvement must benefit Iowa citizens or improve Iowa's economic competitiveness.

Process improvements must be implemented and in use for a minimum of 90 days.

Key processes may include:

Grants, licenses, permit application submission and approval, key administrative processes, processes where Iowa citizens or businesses are ultimate stakeholders, etc.
Eligible nominees include any not-for-profit:
City / County / State entities

Regents institutions / Community colleges

K-12 schools

Non-government organization (NGO)

Nonprofit or benefit organization
Download the 2020 Instructions and Sample Application (PDF) 
Download the 2020 Application (Word Doc)
2020 Application Deadline: July 31, 2020
2019 IPE Award Winner
The ILC presented the 2019 IPE Award to UnityPoint Health (UPH) Sepsis Work Team.  The award was created to recognize a team or work unit within a not-for-profit that, through the use of Lean tools and techniques, significantly and measurably increases productivity and promotes innovation, thereby improving the way services are delivered to the citizens, businesses, and industries of Iowa.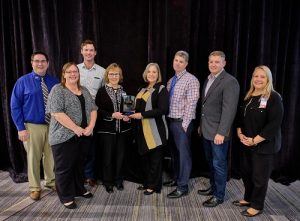 Working with a cross-functional team, the UPH Sepsis Work Team standardized work to reduce the variation in processes and increase the level of care for patients with sepsis, severe sepsis, and septic shock. Sepsis is a potentially life-threatening condition caused by the body's response to an infection.
UnityPoint Health is a health system with 9 regions across Iowa, Illinois, and Wisconsin. Many of those regions have multiple hospital locations, for a total of 18 senior affiliate hospitals. Across those facilities, there was a great deal of variation in how sepsis was treated.
With a problem as complex as this one, the UPH team had to be systematic in its approach to break down the problem. With outcome metrics such as mortality, readmissions, and cost of care in mind, they focused on the contributing variables to those outcomes.
This was one of the first initiatives at UnityPoint Health taking this type of approach to improve patient care across the entire health system. The approach since has been used multiple times with other patient populations. It relies upon a three-pronged approach to the work. The process focuses on identifying clinical best practices through literature review, using data to find and drill down on opportunities for improvement, and using the expertise of clinicians to give context to the data and best practices.